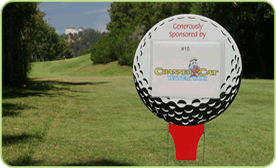 Signs for Tournaments
Welcome to Hole Sponsor Signs. We know you are looking for terrific and affordable tee signs for your golf tournament and we have two fantastic tee sign designs to choose from. The first golf sponsor sign you can get is a golf ball shaped tee sign which has a blank spot in the middle for your sponsors name. We also carry a golf cart shaped sign.
These tee signs stand out and the golf tournament sponsors will surely love seeing their name on them. We've had many satisfied customers and we hope you will give us the pleasure of providing you with your golf tournaments sponsor signage.
Golf Sponsor Signs